OUR NAME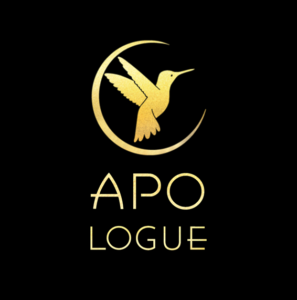 APOLOGUE
/ apo-log / a story within a story
Such is life, no?

OUR PERFUMERY AND CRAFT
Welcome to our artisan perfumery and enchantarium!

From our rainforest mountain, we conjure delights
and sell them online or at select boutiques.
We also pop-up now and again, bringing the magic with us.
CRAFTED WITH CARE
HANDCRAFTED
Rare, exotic, and classic essences

Sel

ected for beauty and active intelligence

E

nergetically enriched to

increase upliftment.
100% NATURAL 90% ORGANIC
Rich, Full, Smooth, Mellow, and Moving. 

No chemical harshness. 
SUSTAINABLE
Responsibly sourced. 

Safely biodegradable. Recyclable. 

Free of molecules not-found-in-nature. 

Beneficial and non-toxic.
THE PERFUME
The perfumes we make are not the open-market perfumes
that you may be accustomed to, available everywhere.

They are influential and intuitive,
a new category we call IntuiScent. 
They are created with timelessly loved ingredients
using a modern version of ancient perfumery
where inner and outer beauty are fragranced as one.
Deeply sensual and uplifting.
Uniquely, naturally you.
THE NAMES OF BEAUTY COLLECTION
Our Names of Beauty Collection is inspired by the complex dynamics of inner beauty, or inner power — spoken through fragrance.
In perfumery there is a tradition of naming perfumes after aspects of inner beauty such as "Joy", "Love", and "Radiance". The idea of creating fragrances to include a greater range of these qualities intrigued us. Could perfume be coaxed into a stronger smell or feeling of the inspiration itself?
The thought of layering inner beauty with outer beauty, fragrance upon fragrance, became an irresistible path that led us further on.  Asking perfume to smell and feel like Courage, for example, and asking it to also support Courage in the wearer would be a challenge.  One that we eventually met.

It's been quite a journey. What we found is crafted into our perfume; each one conceived as a fragrant mirror reflecting how beautiful you really are . . .
OUR FRAGRANT REASON
  Mission Statement
We exist to elevate overlooked, functional, fragrant beauty

so you can experience yourself transported
to a softer, happier, kinder reality — and smell divine!
Another kind of functional, fragrant beauty:
Why?  Research shows that to uplift women and girls is the fastest and surest way to
A)  Transform all of humanity
B)  Protect the environment